Treat yourself in style at the Hospes restaurants and bars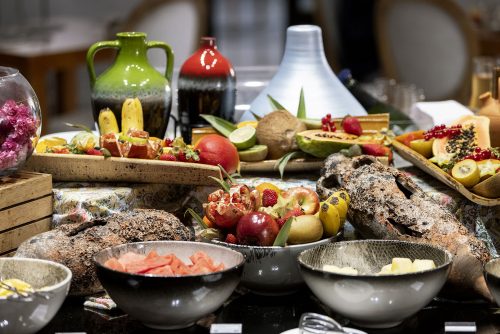 Not all restaurants and bars are the same, some are so inviting and exquisite that you'll never want to leave. We know this all too well at Hospes, which is why we always offer the best quality and service. As such, our culinary establishments leave you with a highly unique flavour. Would you like to find out more?
Our selection of restaurants and bars

We have made customer satisfaction our raison d'être. From the moment we opened our first hotel, Las Casas del Rey de Baeza in Seville, excellence has been a primary goal.
It's no coincidence that our nine hotels are located in some of the most inviting cities in Spain, nor is it just by chance that they are all housed in charming, renovated historical buildings, each with their own unique atmosphere. All of them offer wellbeing, enjoyment and a treat for the senses.
We are also well aware that good food is an essential part of any good trip or holiday experience. And since we'd like to provide you with a complete unique experience, all of our hotels also offer their own restaurants and renowned chefs, each with an impressive career. You will also find exclusive and atmospheric bars in each establishment.
How would you like to sample a varied and quality culinary selection? These nine restaurants share one thing in common: the quest for customer satisfaction that we're known for. However, each chef's signature style offers wonderfully unique nuances. As such, we not only recommend that you taste the cuisine of some of our chefs, we also think that you should make it a medium to long-term project to enjoy all of their food and relish the culinary pleasures they offer.
There are some whims that are worth indulging in. Tasting some of the delicacies from these restaurants is a real treat. As you know, when we're looking to enjoy life as much as possible, it is these little pleasures that allow us to make the very most of it. How would you like to find out more about our restaurants and what sets them apart?
Palau de la Mar Restaurant – Ampar (Valencia)
How about tasting some true works of art produced with the most iconic of Valencian products, such as rice? Well you can do this surrounded by a beautiful indoor garden at the Puerta del Mar restaurant, a culinary space that is a treat for the senses. Treat your taste buds with these unique signature dishes. They are much more than just delicious

Arbequina Restaurant (Córdoba)
Arbequina is a restaurant with a rustic but contemporary atmosphere. And this dual identity is also noticeable in its cuisine: you can choose from both traditional and avant-garde dishes. Whichever you choose, we're sure you will love it! You will fall in love with the warm lighting, sensual environment and exquisite delicacies.
Azahar Restaurant (Seville)
Get ready to taste the very best traditional Sevillian cuisine on an authentic Andalusian patio from the 18th century, at the Azahar restaurant. Luxury and exclusivity come together in this unique atmosphere of ancient Seville. The result is a permanent and subtle contrast that is very pleasant, perfect to experience both with your partner or your best friends.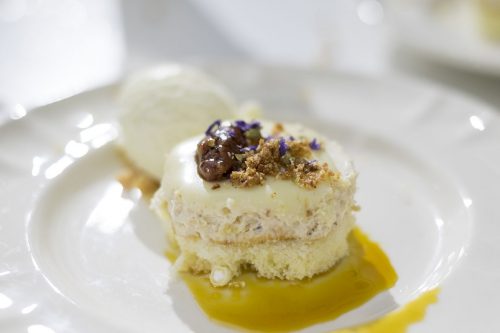 El Monje Restaurant (Salamanca)
In this historical setting, the ancestral flavours of Salamanca's traditional cuisine evolve in the most wonderful way. Enjoy avant-garde cuisine from Castile and León in all its splendour.
Fondillón Restaurant (Alicante)
Treat yourself to a festival of sensations with some unique Mediterranean delicacies at Fondillón. Traditional dishes from Alicante are combined with avant-garde selections, all produced with products from the local market. Then, to complete your experience, you can enjoy the elegant, minimalist and spacious environment of its dining room. And as if that wasn't enough, you can also find authentic tapas dishes at the bar. Try the fantastic breakfast at El Bistró de Amérigo and Rooftop, the signature cocktail terrace!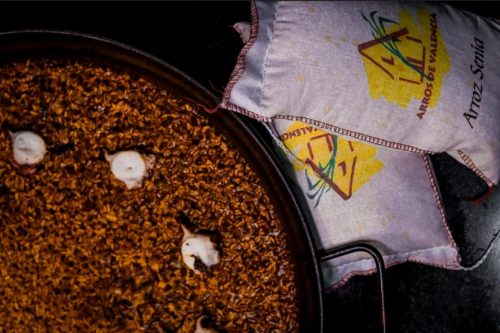 Las Corchuelas Restaurant (Cáceres)
The flavours of Extremadura are full of nuances, as are the dishes at Las Corchuelas, a bright and stimulating culinary establishment. Once again, signature cuisine combines tradition and innovation to astonish diners. How about surprising your partner? Book a romantic getaway at our hotel in Cáceres.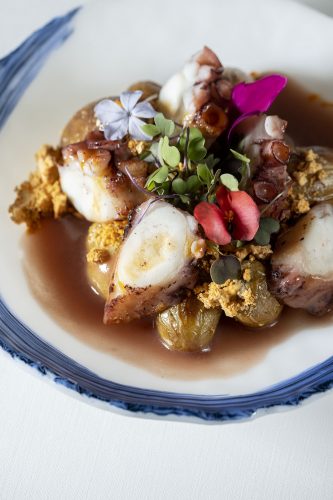 Los Patos Restaurant (Granada)
Dare to savour the charm of Granada at Los Patos, where a romantic dinner will leave an indelible mark. You will have the time of your life at this restaurant in the city centre, with its balanced and well-designed decor. The quality and freshness of its ingredients are combined with absolute dedication when it comes to preparing each dish. It is perfect for connoisseurs, so make sure you don't miss it!
Malvar Restaurant (Madrid)
Enjoy an unbeatable experience at Malvar, our cocktail bar and restaurant in the centre of Madrid, with views of the Puerta de Alcalá. The cosmopolitan fusion of imaginative cocktails and spectacular dishes guarantees a festival of vibrant emotions. And enjoy all this along with fantastic music and a stunning setting.
Maricel Restaurant (Mallorca)
A marriage between local Mallorcan flavours and avant-garde cuisine is much more enjoyable right on the beachfront. Maricel employs a wonderful team of culinary professionals and offers a unique selection of products with a masterful touch to every dish, and its local wine and champagne menu only adds to its charm.
As you can see, our restaurants and bars have a unique and exclusive character. How long has it been since you treated yourself to an unforgettable dining experience? Choose the excellence of Hospes and you will eat like never before.
Categories: blog, News Hospes
« Valencia | Cocktail of the month
Alicante | Tapa Cofrade »