Choose a great hotel, a fantastic spa and the city of Córdoba to get inspired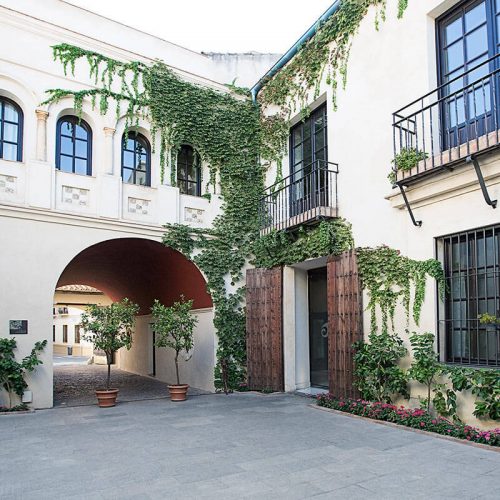 If you're looking to reinvigorate your creativity, how does a visit to a luxury hotel, a spa and the city of Córdoba sound? Good, right? It's the perfect combination to fill any grey period with light, energy and good vibes. Are you ready to recuperate?
Are you looking to regain or maintain your inspiration?
Escaping from your routine and everyday tiredness and stress is key. This is something that must be done at times, regardless of your job or lifestyle. You need to change things up and get away from normality and the mundane to remember who you are.
Do you have a creative job? If you work in advertising, creation, art, problem resolution or people management, burnout is a constant issue. You might not notice on a daily basis, but you'll soon realise that your solutions and ideas aren't as great as usual. When this happens, you need to get inspired again.
Even if you haven't entirely lost your inspiration yet, you still need to allow yourself regenerative moments and experiences. They are a little break to help you find yourself again.
How would you like to get your inspiration back while enjoying some unique experiences? Start by brainstorming your way to Córdoba: at the Hospes chain we help you to explore it in the best way.
A hotel with a spa in Córdoba, the perfect treatment
Relax and enjoy. You don't need shock therapy or anything like that to reactivate your talent. All you need to do is get away from everything in an inspiring and positive environment. And at the Hospes chain we know exactly where you can do that.
Our Palacio del Bailío hotel in Córdoba is an oasis of calm that offers an exciting journey through time to the Roman era. You can even see the ruins of a real Roman villa under the Arbequina Restaurant. If you concentrate and try to visualise what life was like in those times, your imagination will begin to run wild.
This is a typical hotel for our chain and is located within a wonderful historical site, right in the centre of Córdoba. Here you can fully switch off in every sense, in its spa and restaurant, for example.
An extraordinary Roman spa
You will also find the patios of Córdoba at this establishment. In fact, they are the starting point for the Mudejar area of the hotel. Once there, you'll be at the doors to the Bodyna spa, a space designed to treat your body and mind.
Are you stressed, overwhelmed or lacking in creativity? Well, as soon as you enter the immersive environment of the Palacio de Bailío spa, you'll start feeling much better. To get to these Roman baths, you will pass through a unique patio between some beautiful columns. Who would have thought that going underground would be the best way to touch the sky?
Among warmth and freshness. Among relaxation and stimulation. Among waters, sensations and gentle splashes that envelop you, you will get back the best version of yourself. The thermal circuit, massages, beauty routines and treatments not only pamper your body, they also activate your senses, ease mental blocks and elevate your mind, heart and soul.
Water is synonymous with life, and at our spa in Córdoba it is also synonymous with creativity, inspiration and peace.

The taste of regeneration
Arbequina is our restaurant at Palacio de Bailío and it offers all the unique elements of Hospes gastronomy:
Signature cuisine.
Chefs with renowned careers.
Creations that combine tradition with the avant-garde.
An extensive and varied menu inspired by products and dishes from the land.
Local ingredients of fantastic quality.
An exquisite and well-designed environment, often with a historical character, but always immersive and beautiful.
A conscientious and expert professional service focused on customer satisfaction.
Our restaurant in Córdoba also offers distinctive and delicious Andalusian flavours. Above the remains of the aforementioned Roman villa, which you can see through a glass window, you will find some exquisite 21st century flavours. And the more traditional dishes are even more ancestral and glorious than ever before.
The talents of Chef Javi Moreno are evident in every nuance of his dishes. The aroma, the subtle flavours, the textures, the plating… everything will help to transport you to an ethereal world of satisfaction.
You can also find several other gastronomic spaces, such as the garden terrace and the bar, with its delicious cocktails. It's quite an experience!
Córdoba at its purest
When you stay at a hotel with a spa, like this one, right in the centre of Córdoba, exploring the city is an even greater pleasure. Unwind among its enchanting narrow streets and lift your spirits in the patios of Córdoba, with their beautiful flowers. And if you have time, pay a visit to the Mosque-Cathedral, Medina Azahara and the old town. You'll love them!
Categories: blog, News Hospes
« Valencia | Alma acústica
Madrid | February Spa promotion »