Hospes Maricel & Spa, an exclusive space for your wedding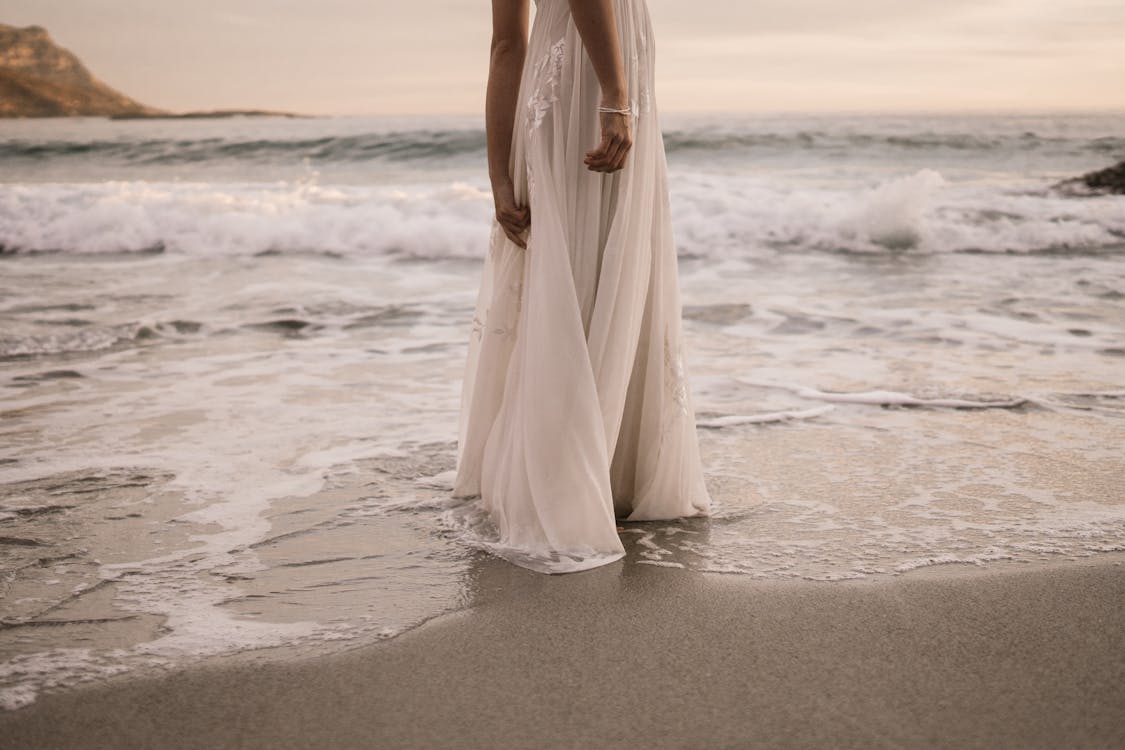 Are you looking for an exclusive space in Mallorca to host the wedding of your dreams? At Hospes Maricel & Spa, we have everything you've ever dreamt of … and a little more. Discover it now!
Shall we get married in Mallorca?
The island of Mallorca has become a very fashionable place to get married, as its capital offers fantastic advantages for the couples that choose it. Of course, this Mediterranean destination's excellent climate makes it a great choice. The chances of enjoying a sunny day are high, all year round.
What's more, its island nature adds a touch of glamour and originality to the event. Even more so if you consider the great variety of tourist, cultural and leisure attractions available in the area. Likewise, local cuisine is another fantastic reason why so many people are looking to plan their wedding in Palma de Mallorca. The Balearic capital offers a range of fantastic restaurant options.
One of the most noteworthy is the Maricel restaurant, located in our Maricel hotel in Mallorca. The fusion of local and international cuisine, both traditional and cutting-edge, comes to life in a fantastic and delicious menu. In the menu, we bring together seafood flavours like wild sea bream, local delicacies like suckling pig and sophisticated touches like our Baileys and chocolate mousse. We also offer a careful selection of menus for celebrations. Everything will go off without a hitch!
Your exclusive Hospes space in Mallorca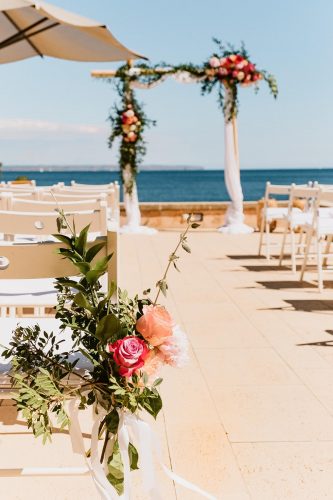 Whether you're planning an intimate celebration or a big wedding with plenty of guests, our Maricel hotel in Mallorca is your perfect destination. It is an exceptional establishment with spectacular rooms, many of which include an outdoor zen pool. Its beachfront location will allow you to soak up the fabulous Mediterranean atmosphere.
Among the many options available, we offer some truly distinguished family rooms and suites, transforming your wedding night into a genuine wonder.
Feeling at ease in accommodation like this, before and after your wedding, is a real delight. Of course, guests are sure to love this distinguished hotel environment. On top of all this, the Maricel has a host of other treasures to give your wedding day a truly sublime touch.
A tailor-made setting for your wedding
Have you always imagined getting married with Mediterranean-sea views, in a natural and sunny climate full of peace and beauty? If so, the terrace of the Maricel hotel in Mallorca is exactly what you've been dreaming of. Here, you can celebrate an intimate wedding where the sea breeze and faint murmur of the waves are also invited.
If you prefer a celebration in an events hall, we have plenty to offer in our wedding hotels. More specifically, the Maricel offers perfectly designed and equipped rooms:
Aqua. This is a perfect, cosy and very charming setting for the most intimate of weddings. With capacity for up to 30 people, it stands out for its warmth and seclusion.
Divum. This room comfortably hosts up to 60 guests and has stunning views and extraordinary natural lighting.
Natura. This also hosts around 60 guests and stands out for the natural light that floods this room, guaranteeing a stimulating and positive atmosphere.
Natura Lobby Bar. Up to 200 guests can be comfortably catered to in this impressive hall.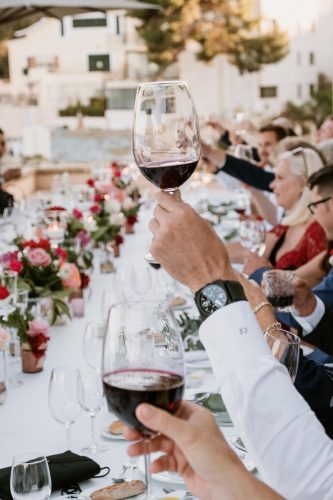 Son, en todos los casos, espacios polivalentes: los utilizamos como salones nupciales o para acoger cualquier clase de eventos. Por ello, siempre tenemos la capacidad de personalizar al máximo sus características, de acuerdo con tus expectativas e ilusiones.
El servicio es, por descontad
All of these choices are multi-functional spaces: we use them as wedding venues or to host events of all kinds. All this means that we can personalise their characteristics as much as possible to meet your expectations and hopes.
Naturally, we offer an exquisite and very attentive service. Our professionals are elegant and impeccable, anticipating all our guests' needs with a smile.
An extra dose of satisfaction
And that's not all. Hosting your wedding in our hotels offers an added bonus. More specifically, a relaxing and friendly atmosphere is one of the most important things when it comes to fully enjoying these events.
Well, in all our boutique hotels, including the Maricel, we offer spectacular wellness spaces. Can you imagine enjoying a relaxing massage before getting ready for the big day? And sharing a spa session with your spouse the morning after your wedding?
Likewise, your guests will be able to make use of this place of wellbeing, disconnection and beauty. The facial and body treatments, thermal baths and contagious tranquillity of our Bodyna spa in Mallorca are highly appreciated by attendees.
If you've read this far, there's only one conclusion: the Hospes Maricel & Spa is the exclusive space your wedding in Mallorca deserves. Celebrate your wedding, whether big or large, in our unique facilities, and give yourself the gift of that special wedding event you've been dreaming of! Get in touch with us and we'll create a personalised proposal according to your needs. At the Hospes chain, we guarantee excellence and satisfaction in terms of cuisine, hospitality, wellness, and organisation.
Categories: blog, News Hospes
« Healthy Mornings in Cáceres
Cordoba | Spa Promotion January »