Hospes Palau de la Mar, a dream wedding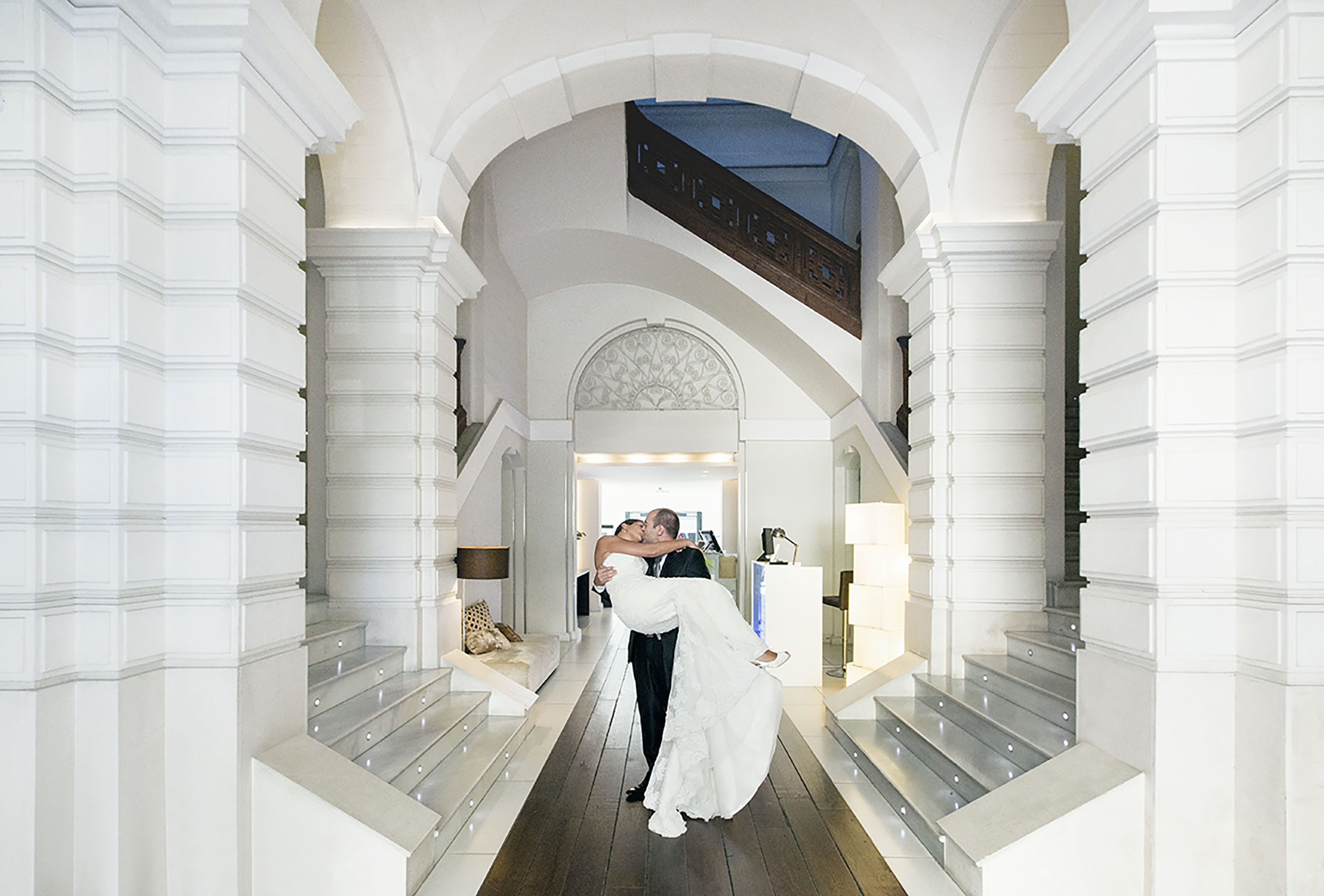 The Hospes Palau de la Mar is much more than a five-star hotel located in a remarkable area of Valencia. It is an iconic, welcoming setting, perfectly equipped to celebrate any important event. More specifically, your wedding.
Why celebrate your wedding in Valencia?
The capital of the Valencian Region is one of the most important cities in Spain. It is also an ideal destination to organise charming social and corporate events.
First and foremost, it is the city of light and colour. It has a pleasant climate. The sun shines down most days, and there is hardly any rain. With an average temperature that fluctuates between 11 and 25 degrees, outdoor events can be held all year round.
What's more, the area offers up some truly delicious cuisine. Not just with its charismatic, traditional dishes, but also with its incredible selection of gourmet restaurants headed up by top chefs. In fact, the head chef at our boutique Hospes hotel in Valencia is one of the very best.
At the Ampar Restaurant, we serve exceptional dishes based on seafood and fresh products grown in Valencia. Here, rice takes on a refreshed and modern significance at the hands of chef Carlos Julián.
Wedding banquets in this restaurant within our Valencia Hotels chain offer up some extraordinary flavours, textures and experiences. Among other options, our octopus with citrus fruits, Galician beef steak and pear cake never disappoint.
What's more, Valencia is an incredibly exciting and fun city with some great leisure and cultural attractions to discover. Your guests will enjoy a unique stay in a modern and vibrant city that brings together history and the avant-garde like few others.
Our Valencian seaside hotel, the best setting
In Valencia, Hospes Palau de la Mar is an unbeatable space to celebrate the most spectacular and memorable wedding. Whether you're looking for an intimate celebration or a large wedding, we put everything you need at your fingertips.
First and foremost, we are located in a stately 19th-century mansion, bursting with elegance. This is a luxurious and impressive environment that evokes the mysteries and purity of this fantastic city. Located just 500 metres from the old town, you're guaranteed an excellent, strategic location. Your guests will be close to everything!
What's more, if you book rooms, you'll enjoy accommodation that invites you to disconnect, feel at ease and love. We offer some spectacular suites, which are perfect for enjoying a unique wedding night, as well as some rooms designed for comfort.
Excellent services are the cornerstone of our accommodation: a true sea gateway to exclusivity, sophistication and charm. Free Wi-Fi, pet-friendly environment, room service breakfast, terrace and personalised attention are just some of our services.

Fantastic rooms for celebrations
In this boutique hotel, we offer cosmopolitan spaces for up to 180 guests. These are multi-functional rooms that allow us to organise events of all kinds, from company meetings to family celebrations. And, of course, weddings that ooze glamour and beauty.
In addition to these rooms, all with natural lighting, you can also choose to celebrate your event in our stunning gardens. As such, we organise events of all types in spaces from 40 to 200 square metres.No matter which one you choose, at our seaside hotel in Valencia, we'll create a personalised proposal that is tailored to your needs.
Not just a wedding venue: relaxation guaranteed
Being relaxed and well rested is essential for any wedding. It's particularly important for the bride and groom to be in a pleasant, pleasing atmosphere, perfect for unwinding. Both before and after a wedding, it's great to be able to enjoy a relaxing setting.
At our boutique hotel in Valencia, we've got something up our sleeves for you. Our Bodyna Spa wellness space completes our pack! Disconnect in our pool-jacuzzi, exercise in the fitness zone or sink into a Turkish bath if you need to relax. What's more, our body and facial treatments and services will have everyone looking their best, whether it's the happy couple or their guests. Can you imagine sharing a spa experience with your new spouse the day after your wedding?
Bearing all the above in mind, it's clear to see that: Hospes Palau de la Mar is a fantastic choice to host your wedding. In the Hospes chain, we guarantee total quality: cuisine, luxury, a refined atmosphere and exceptional services. Don't hesitate to get touch with us now and request a quote for your event in the best venue in Valencia.
Categories: blog, News Hospes
« Alicante | December Spa Promotion
Madrid | December Spa Promotion »