Carlos Julián Martínez wins the Bocuse d'Or of Spain 2023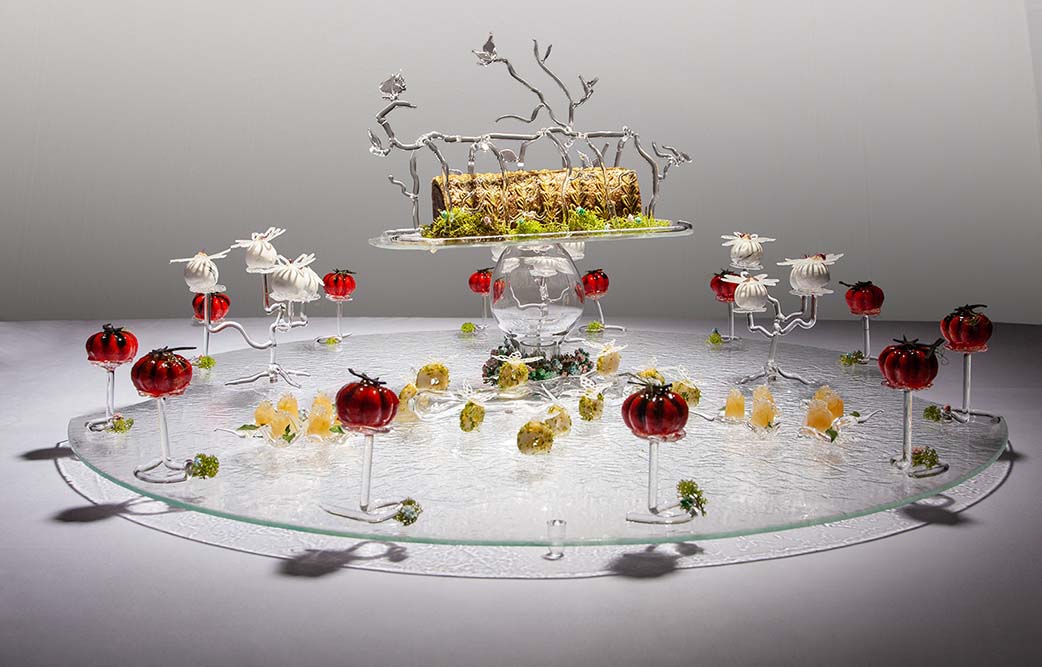 The Chef of the Ampar Restaurant at Hospes Palau de la Mar, will represent Spain at the Bocuse d'Or 2024.
Madrid, May 9, 2023 – Chef Carlos Julián Martínez, from the Restaurant of the Hotel Hospes Palau de la Mar in Valencia, has been selected among five finalists as the Spanish representative for the prestigious culinary competition Bocuse d'Or 2024 with the aspiration of achieving one of the medals of the prestigious international championship.
Carlos Julián, who has extensive experience in the world of gastronomy, has stood out for his creativity and technique when it comes to creating innovative dishes that fuse tradition with contemporary elements. His trajectory left no room for doubt, he was a finalist in the 'Chef of the Year' competition in 2018, finalist 2019 and obtained the fourth position in Bocuse d'Or Spain 2019 and Runner-up in Bocuse d'Or Spain 2021.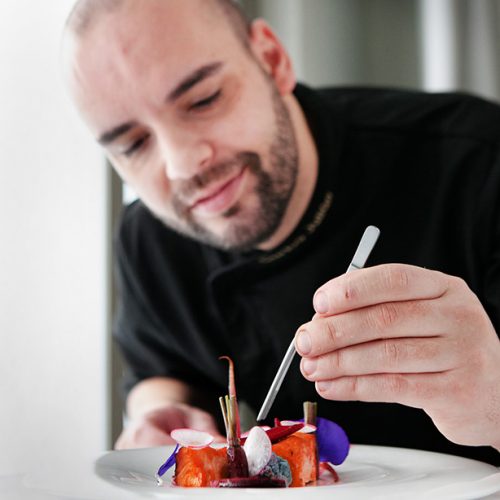 Now in 2023, the choice that has led him to become a representative for the prestigious competition, has been made by a tasting jury, composed of former Spanish participants of Bocuse d'Or, a technical jury with experience in competition cuisine, and the direction of the technical director of the Academy Bocuse d'Or Spain, chef Juan Pozuelo.
A year of very hard training, sacrifice, investment and a lot to transmit, making our restaurant and our menus our daily training place and the elaborations of our Bocuse project, incorporated in our gastronomic offer.
It takes time and dedication. Carlos Julián has based his project on perfection, harmony and flavor, giving birth for his candidacy "Todo nace en la Tierra", he used black cod as the main ingredient, creating a cod brandade, Valencian titaina and a miniostra with prawns. For its part, "Todo nace en la tierra" consisted of duck terrine with mushrooms and morels, accompanied by acid bonbon, leg with white truffle and false tomato.
In the selection he makes daily for the Ampar Restaurant of Hospes Palau de la Mar, you can taste touches of these dishes, as his cuisine is full of character and with a strong accent that distinguishes him. His creativity is also present in the presentation of all the dishes that come out of his kitchen.
Carlos Julián has been very excited to have been selected to represent Spain in this prestigious culinary competition, and has assured that he will work hard to carry out an impeccable and creative presentation. He mentioned that his focus for the competition will be to highlight the local flavors and products of Spanish gastronomy, and that he is confident in his ability to impress the judges with his technique and creativity.
Carlos Julián Martínez's participation in the Bocuse d´Or 2024 is a unique opportunity to highlight the talent and creativity of Spanish gastronomy on the international stage, and we are confident that he will have great success in the competition. The world competition, considered the Olympics of Cuisine and held every two years, will take place on March 19 and 20, 2024 in the Norwegian city of Trondheim.
Categories: blog, News Hospes
« Valencia | Vittore-Valsangiacomo Artisanal Vemouth Workshop
Gastronomic Menu paired with Wines from the Vera de Estenas Winery »