HOSPES INFANTE SAGRES greets the four-legged friends

The hotel in the center of Porto is now "Pet Friendly," offering guests the opportunity to bring their pets for an unforgettable stay.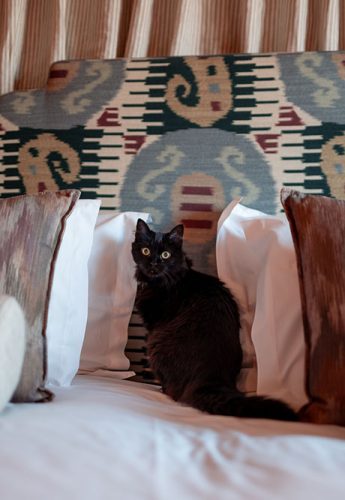 For those seeking a stay where their furry companions can also spend the night, Hospes Infante Sagres offers the ideal solution. In the heart of the charming city of Porto, pets now become an integral part of their owners' experience at Hotel Infante Sagres, allowing them to enjoy a warm experience with all the necessary amenities.
With a stay that goes beyond conventional tourism, Hospes Infante Sagres has established some simple rules to make everything easy and comfortable for all guests:
Before arrival, it is important to inform the reception that your pet will accompany you during your stay, so a unique reception can be personalized for your furry friend;
The pet can weigh up to 15kg;
There are exclusive areas for our furry companions to ensure the safety and comfort of all guests.
While Hospes Infante Sagres opens its doors to joy, it's important to remind each guest that, for a truly memorable stay, the responsibility for the behavior of their pets lies with them.
As a gesture of hospitality, Hospes Infante Sagres has several special treats to offer. From fluffy beds to water and food bowls, we aim to make each stay a chapter of happiness for our furry guests. Additionally, we provide tips from local veterinarians and suggestions for charming walks.
Strategically located in the city, Hospes Infante Sagres allows owners and their four-legged companions to explore the best of Porto at a leisurely pace, combining the city's historical charm with the contemporary luxury of the hotel. Hospes Infante Sagres is the starting point for an unparalleled adventure.
About Hospes Infante Sagres Porto
Hospes Infante Sagres Porto, Porto's most prestigious luxury hotel, has long been a meeting place for the city's elite and the preferred residence for discerning travelers and international celebrities. Boasting an illustrious history spanning over seven decades, this iconic grande dame is renowned for its beautiful interiors, personalized service, and timeless sophistication. Nestled within a listed building, Hospes Infante Sagres Porto was first inaugurated in 1951, as the city's very first 5-star hotel.
In a significant development for 2023, Hospes Infante Sagres Porto has joined Hospes Hotel Group, an acclaimed upscale boutique brand leading the way in the luxury and heritage hotel segment. Seizing the opportunity to elevate the guest experience, the hotel has undergone a comprehensive revitalization, breathing new life into its guest rooms, lobby, and reception areas. The highly anticipated reveal of the hotel's renewed appearance took place in June 2023, marking a milestone in its storied legacy. Comprising 85 stunning bedrooms & suites that exude an irresistible charm and distinctive style, the hotel offers an environment of unparalleled refinement
Categories: blog, News Hospes
« Dream Accommodation: Hospes Maricel
Salamanca | Cuchareo Menu »