Hospes Hotels Group expands its presence to Portugal by adding the most iconic hotel in Porto, Hospes Infante Sagres, to its brand.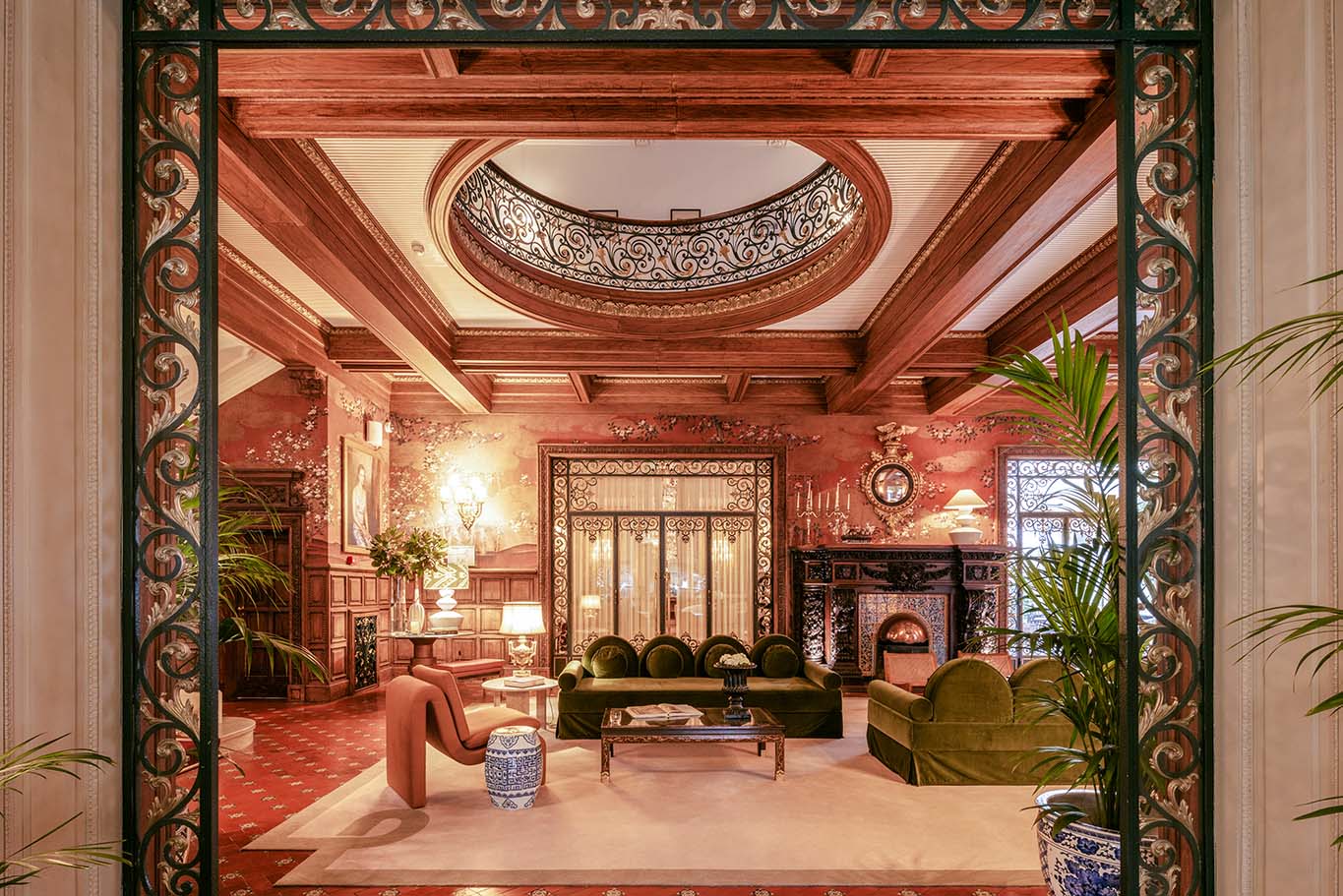 The new Hospes Hotel, located in the cultural and historical heart of Porto, was the city's first 5-star hotel and has become an indelible part of its history. More than just a luxury hotel, it has long been the preferred meeting place and residence for discerning travelers and international celebrities.
July 3, 2023– The Infante Sagres Hotel is now part of Hospes Hotel Group, an acclaimed international brand that leads the segment of luxury boutique hotels. HOSPES has a significant presence throughout Spain, with a portfolio of avant-garde design hotels that showcase their own unique and distinctive style. These hotels are located in exceptional locations in the most important cities of Spain.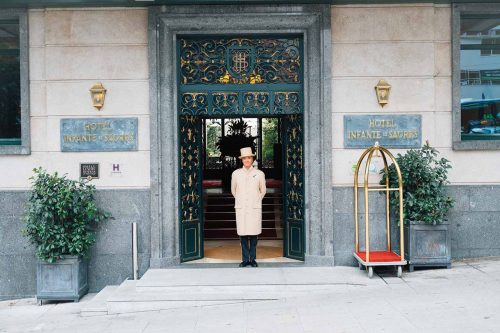 Located in the cultural and historical heart of Porto, the hotel enjoys an unbeatable location in a vibrant neighborhood declared a UNESCO World Heritage Site. It is within walking distance of the city's main attractions. The proximity to local landmarks, along with a variety of restaurants, shops, and bars just steps away, makes the hotel an ideal starting point for exploring everything Porto has to offer. The medieval old town of Porto can be easily explored on foot, giving guests easy access to must-see places such as Bolhão Market, Lello Bookstore, Praça da Liberdade, and Rua das Flores, all within a 5-minute walk from the hotel.
Infante Sagres opened its doors in 1951 as Porto's first 5-star hotel. Its creator, Delfim Ferreira, an entrepreneur and philanthropist, aimed to make it one of the most elegant accommodations in Porto. He commissioned the country's finest craftsmen to work on this protected building, bringing it to life with abundant decorative elements, including intricate ironwork, masterful wood carvings, and spectacular stained glass windows created by Ricardo Leone.
After undergoing extensive renovations and a comprehensive review of its design, services, and offerings, the Infante Sagres Hotel has joined Hospes Hotels. This marks the beginning of an exciting new chapter for the hotel, bringing it back onto the map as the incomparable Grand Dame of Porto and restoring its rightful position of prestige and elegance.
One of Porto's most enduring landmarks, the Hotel Infante Sagres, enters a new era. The initial phase of renovations, which includes 30 rooms and suites, as well as updates to the lobby, facade, and reception areas, has just been completed.
The hotel has also welcomed Scarlett Brasserie & Wine Bar as an exciting emerging concept destined to become the social hub in Porto's old town. Further enhancing the dining and beverage options at the Infante Sagres Hotel, Scarlett offers modern brasserie dishes with a Portuguese twist.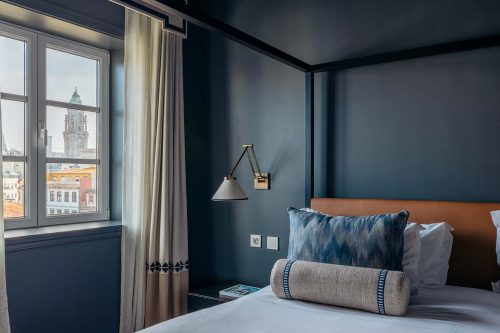 ean Hélière, General Manager of Hospes Infante Sagres, stated, "We are proud to say that the Grand Dame of Portuguese hotels now carries the Hospes insignia while paying homage to Porto's rich history. The hotel is located in the heart of Porto, in a historic neighborhood declared a UNESCO World Heritage Site, just steps away from the city's main attractions. It is the ideal location to open the first Hospes hotel in Portugal."
Nano Design, a renowned architectural firm in Porto, has masterfully reinvented the space, merging local culture with modern elegance through a narrative design approach inspired by Portugal's Age of Discoveries. The interiors pay homage to Prince Henry the Navigator, also known as Infante Sagres, and "Os Lusíadas," a renowned Portuguese epic poem written by Luís de Camões.
On the upper floors, the luxuriously decorated rooms and suites feature a striking combination of soft and bold colors, exquisite textiles, custom wallpapers, and original artwork, complemented by modern touches. In the lobby and reception area, the harmonious and layered design showcases luxurious materials such as velvet, porcelain, and marble. The second phase of renovations, which will begin in November 2023, will include the refurbishment of 58 rooms and suites on the first, second, and third floors, as well as the pool area.
Today, the hotel remains a legendary establishment that combines the charm and sophistication of the old world with modern comforts and personalized service in the heart of Porto. Discerning travelers will find new levels of comfort and unparalleled service.
About Hospes Infante Sagres Porto
Hospes Infante Sagres Porto, the most prestigious luxury hotel in Porto, has long been a meeting place for the city's elite and the preferred residence of discerning travelers and international celebrities. With a illustrious history spanning over seven decades, this iconic grand dame is renowned for its beautiful interiors, personalized service, and timeless sophistication. Located in a listed building, Hospes Infante Sagres Porto was first opened in 1951 as the city's first 5-star hotel.
In a significant development for 2023, Hospes Infante Sagres Porto has joined Hospes Hotel Group, an acclaimed luxury boutique brand that leads the luxury and heritage hotel segment. Seizing the opportunity to elevate the guest experience, the hotel has undergone a comprehensive renovation that has breathed new life into its rooms, lobby, and reception. The highly anticipated reveal of the hotel's refreshed look took place in June 2023, marking a milestone in its historic legacy. Featuring 85 stunning rooms and an additional 10 suites exuding irresistible charm and distinctive style, the hotel offers an atmosphere of refinement and unmatched exclusivity. Each space has been meticulously designed to ensure an unforgettable stay for every guest.
About Hospes Hotels Founded in 2000,
Hospes Hotels has become a leader in the luxury boutique hotel segment, operating a collection of 10 hotels that redefine the concept of boutique hospitality. With a strong focus on well-being and authenticity, Hospes' portfolio comprises stunning heritage properties that provide guests with unparalleled experiences in exceptional destinations. Each of the hotels showcases great historical and architectural value, preserving the essence of its location and unique culture.
Hospes hotels promise elegant accommodations, innovative dining options, luxurious spas, and expert event planning services, with a strong commitment to excellence that goes beyond service and facilities. Sustainability and innovation are at the core of their practices as they strive to minimize their environmental impact and continually enhance the guest experience.
Hospes Hotels Communication Department:
Isabel de Castro/icastro@hospes.com/ 914362766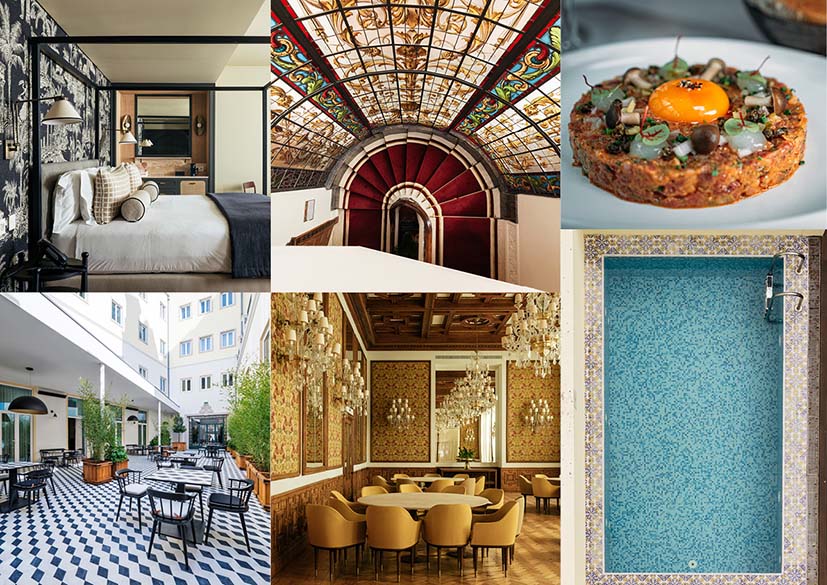 Categories: blog, News Hospes
« Sevilla | Spa Promotions
Granada |"Tardeo" at Los Patos Terrace »