Opening #AllureMaricel Hospes Maricel & Spa Mallorca
Opening #AllureMaricel
May 24th, 2018
Since the 50s, the Hospes Maricel Hotel has exemplified the "allure" of a dream vacation in front of the Mallorcan sea.
Each era has had its aesthetic codes and its guidelines of what it meant to receive with all kinds of luxury and comfort but Maricel has managed to maintain as a base of its service a #allure that has derived in a stamp of unique experience that does not stop renewing season to season.
In this 2018, the Hospes Maricel & Spa hotel opens the decoration of the 29 rooms of the palace building signed by the famous interior designer Tomás Alía, with the presence of the same in an event inspired by the 50s.
The event is titled #AllureMaricel and is a small tribute to the allure and elegance of the movie stars who stayed at the Hospes Maricel hotel since its opening in 1948. A glamorous event, inspired by the 50s full of surprises, with musicians and swing dancers to make the event more interactive and a premium catering watered with Taittinger champagne and cocktails signed by Rafa Martín of the Brass Club to make all the guests feel like movie stars.
It has also had two luxury collaborators who have dressed and have put the touch of brightness through wonderful pieces of jewelry to two couples who have joined the public, exemplifying the leitmotiv of the evening: Nicolás Joyeros and Jorge Vázquez Palma of Mallorca.
ON THE REFORM OF THE ROOMS OF THE PALACIO MARICEL
A concept of design revised in a contemporary key, in which starting from the construction of the hotel, of palatial typology, which is projected to the sea with noble materials, it is combined with elements of the Mediterranean culture, as well as the artistic and traditional wealth of the island.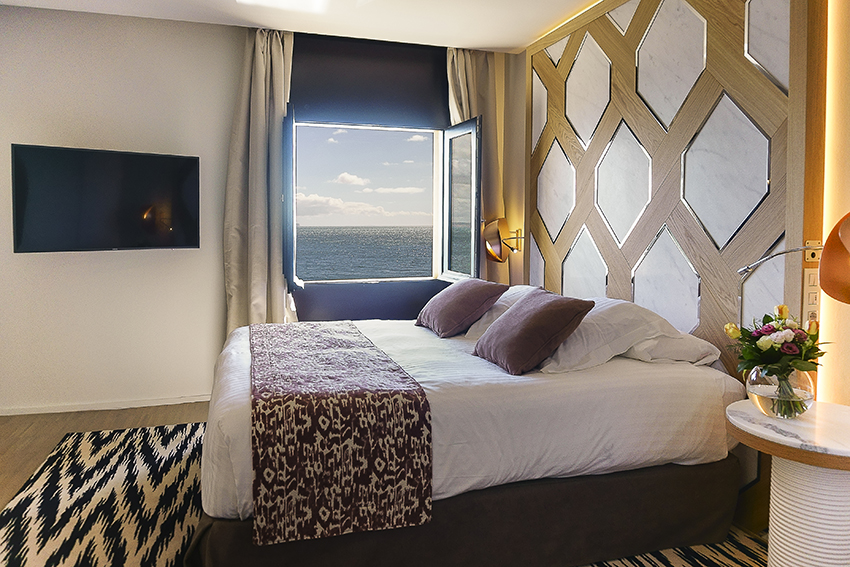 ABOUT TOMÁS ALÍA
One of the most requested interior designers and media at national level, with more than 25 years of experience, considered the preferred interior designer by the aristocracy. He has been awarded the design of the Qatar stadium where the 2022 soccer world cup will take place.
It has been chosen by the Hospes chain to carry out the renovation of the rooms of the Maricel palace building.
His style blends Arab influences with a technological touch and a certain taste for provocation. He likes to create everything from space to each element that composes it.
"Lighting is the philosophy and the mother of interior design." Tomás Alía
Ctra d'Andratx 11 | Cas Català (Calvià) | 07181 Mallorca
T (+34) 971 707 744
maricel@hospes.com
Categories: News Hospes
« Seasonal recommendation Fondillón Restaurant
The Sculptor and Painter Joan Costa in Hospes Maricel & Spa »