Our Seven Recommendations of Spa Hotels That Take Well-being to the Next Level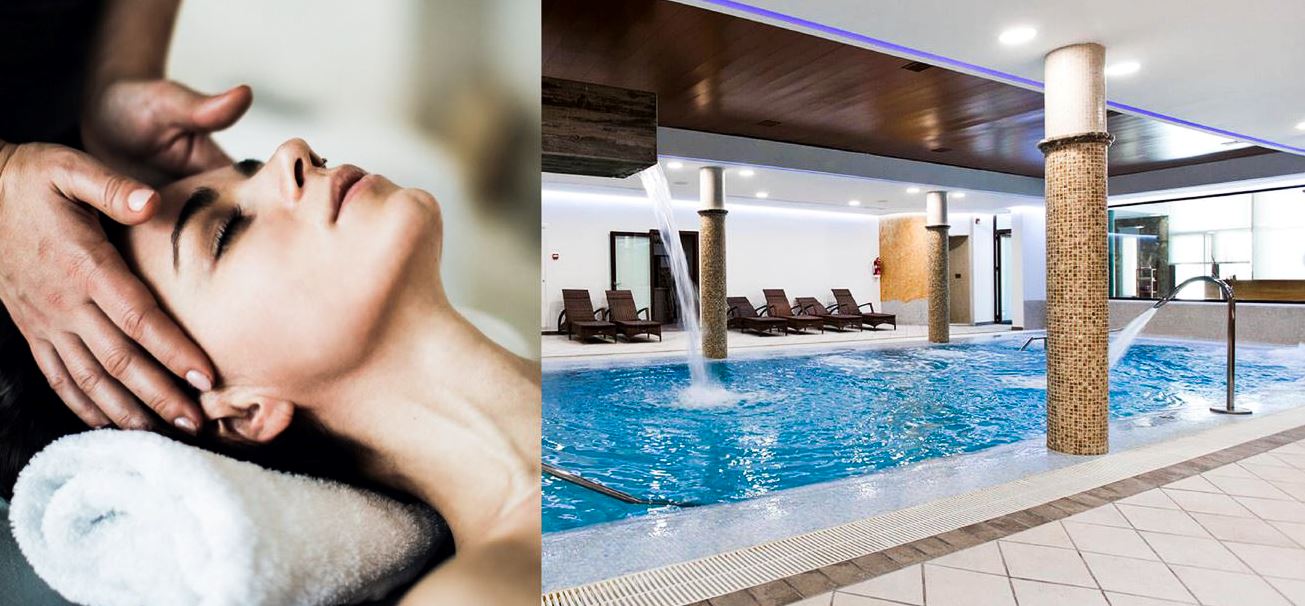 These days, booking a spa hotel is one of life's greatest pleasures. In modern society we're always rushed off our feet and stressed out. That's why we need to work on well-being and relaxation. Where better than in one of these spa hotels?
Present day well-being
How we feel has an effect on our quality of life, our professional performance and personal relationships. We're more stressed out than ever before, so we must learn to take care of ourselves; both physically and mentally. Only then, by feeling good, will you be able to focus on the things that really matter.
In the dictionary the first definition of "well-being" is the state of being comfortable, healthy, or happy. That's what it's all about, optimising our physical, mental and emotional spheres.
How going to a spa can help you
There is no treatment quite like water for the body and mind. As you lose yourself in this healthy relaxation, your batteries will be immediately recharged. A massage, a sauna, a thermal bath or total relaxation will regenerate you straight away.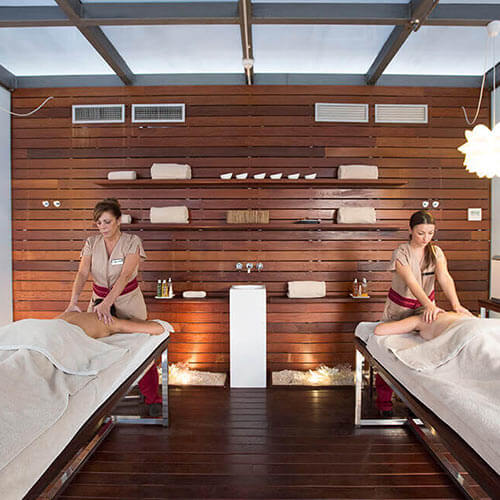 These are all the health benefitsof staying at a good spa hotel:
You relax and relieve stress.
You strengthen your immune system.
You remove toxins and revitalise your skin.
You improve your cardiovascular system.
You tone your body and become more flexible and dynamic.
You sleep better.
You relieve chronic pain and aches.
Your mood improves.
You sleep like a baby again.
You feel younger and more beautiful.
Your self-esteem and confidence are improved.
Staying in a spa hotel is the best wellness tourism option
Spa hotels are the best alternative when what you are really after is to regenerate body, mind, and soul. At Hospes, we are specialists in this top-class tourism. If you're looking for a hotel in Spain, we've got some one-of-a-kind possibilities for you. Where will you stay first?
Spa Bodyna Amérigo (Alicante)
Located on the rooftop of the Hotel Hospes Amérigo, it has breathtaking views that add even more to its wellness resources. Relaxation, fitness, spa treatments, swimming pools and the solarium are just some of the enticing possibilities it has to offer. And the best part? You don't have to step foot outside the hotel to enjoy these healthy benefits. At our Spa Bodyna Amérigo, you'll fell like you've never felt before.
Spa Bodyna (Cáceres)
This incredible wellness retreat in Extremadura is located in the Hospes Palacio de Arenales & Spa. It is completely free of charge for guests and has a charming atmosphere. It has a hydrothermal circuit with a wealth of resources; everything from jacuzzi tubs to Turkish baths, ice baths and footbaths. The Spa Bodyna experience is rounded off with the herbal tea of your choice.
Spa Bodyna (Córdoba)
Another excellent place for personal regeneration is the Spa Bodyna at the Hospes Palacio del Bailío. You can reach this geometric and modern, hotel by crossing the Mudejar area and the Patio de los Naranjos, found between Roman columns. The thermal baths, the bespoke massages, the aromas and the unbeatable quality of the products used are its main qualities.
Spa Bodyna (Granada)
At the Palacio de los Patos Hotel you can avail of this one-of-a-kind setting where glamour, ease and personal satisfaction go hand in hand. The exclusive bathing area stands out at Spa Bodyna-Natural Care. Dry sauna, hydromassage, Turkish bath and bespoke hand treatments are some of the main attractions. At all times you'll feel relaxed, at ease and extremely well looked after.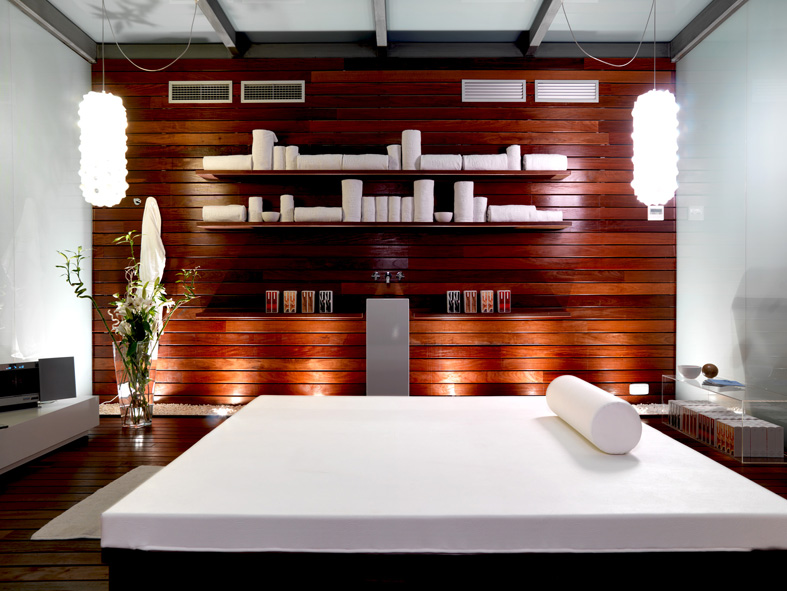 Spa Bodyna (Madrid)
OurBodyna Spa in Madrid is located next to the emblematic Puerta de Alcalá, which lends its name to the hotel. The access via an underground chill-out patio it is a sign of what's to come. The bubbling jacuzzi, the relaxation area, the pleasant natural lighting and a state-of-the-art fitness studio await you here. Find it in the heart of the Spanish capital!
Bodyna Maricel (Mallorca)
The essence of nature is at the heart of this unique setting. Water comes together with air, stone and wood, while the sound of the waves crashing outside relaxes the senses and helps you fully disconnect. It has five massage booths, water treatments, a solarium with breathtaking views and offers top-class service. Bodyna Maricel is found the Hospes hotel that bears its name.
Spa Bodyna (Valencia)
The Spa Bodyna at Hospes Palau de Mar offers treatments with garden views on the upper floor and sensational wellness services on the lower floor. A natural, exquisite and meticulous approach is always applied, open to guests and visitors looking for complete relaxation.
Space Bodyna (Seville)
This highly recommended space for regeneration is on the rooftop of our hotel Las Casas del Rey de Baeza. Although it is not a spa, it offers massages and bespoke treatments. The outdoor swimming pool and freshly squeezed juices ensure complete satisfaction in this Sevillian Espacio Bodyna.
​As you can see, there is a spa hotel for you. They are committed to physical, mental and emotional regeneration. Treat yourself to a refreshing and memorable life experience and recharge your batteries.
Categories: blog, News Hospes
« A magical spa adventure in Granada
Cordoba | Spa Promotion December »