Hotel Tapa Tour Madrid: A different and tasty plan

Haute cuisine in small bites
Hospes Puerta de Alcalá will participate in the Hotel Tapa Tour, from September 16 to 26, offering haute cuisine at the bar.
This is a warning for gastronomy lovers, make a note of the date: from September 16 to 26, 2021. During these days will be held for the sixth consecutive year the Hotel Tapa Tour, under the slogan ¿De qué palillo vas? A gastronomic event and festival dedicated to the promotion of hotel gastronomy. With the tapa as the protagonist, the initiative breaks the barrier – architectural and psychological – existing between the haute cuisine of luxury hotels and the public. This event has been held annually with great success and reception since 2016 in Madrid and Barcelona.
Within the context of the festival will take place the National Final of the II National Contest "Tapa Alimentos de España" where the wines of the D.O. Ribera del Duero will be the protagonists.
With the support of the Ministry of Agriculture, Fisheries and Food, the Madrid City Council, the Madrid Hotel Business Association (AEHM) and ACYRE Madrid, among other entities, its objective is to highlight the excellence of food and beverages produced in the national territory and to promote regional cuisines through the tapa, the great ambassador of Spanish gastronomy.
Each participant will present a tapa made with Spanish food products and inspired by a typical dish or traditional Spanish recipe.
It will be accompanied by a Ribera del Duero D.O. wine to enhance the tasting experience.
The jury in charge of judging will be made up of professional chefs from ACYRE Madrid and chaired by Rubén Arnanz, one of the youngest Spanish chefs to obtain a Michelin star. The ten selected will compete live in front of a jury made up of prestigious chefs, journalists and other personalities from the world of gastronomy and wine.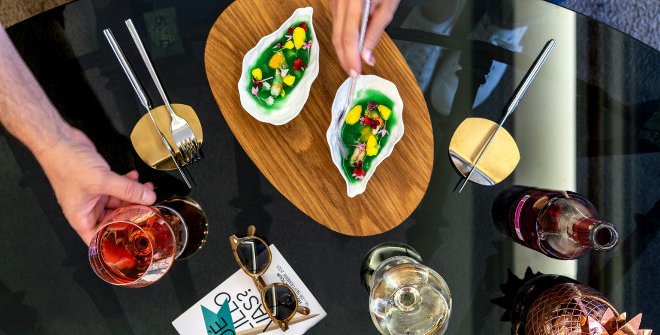 This year the most emblematic 5 and 4 star hotels in Madrid, including Hospes Puerta de Alcalá, will opt for a more informal format within the reach of all budgets, thus encouraging citizens to discover the cuisine of its restaurants, bars and terraces.
In each of the participating hotels you will be able to taste two different tapas. On the one hand, the proposal created for the second edition of the National Contest "Tapa Alimentos de España" and, on the other hand, a delicious "signature" croquette to which attendees will be able to give a mark and thus enter a draw to get a VIP pass and attend the closing of this edition in Madrid.
In addition, attendees will be able to take the tour on their own or follow the official routes of the Hotel Tapa Tour guide, which will be available at all participating hotels from September 13. The guide will also be available for download in digital format.
Hotel Tapa Tour will be held in compliance with the regulations of the sanitary order and respecting the corresponding health and safety protocols.
Categories: blog, News Hospes
« Valencia, a thousand plans in a destination full of light and magic
The Castle of Santa Barbara in Alicante, a tourist landmark »